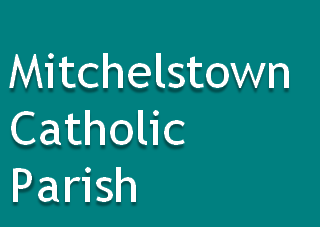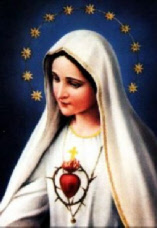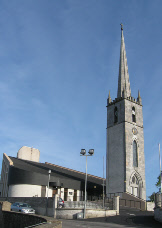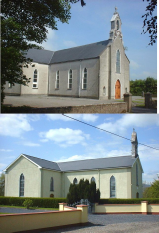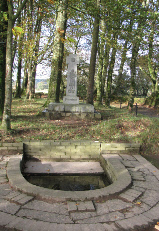 Parish News
& Upcoming Events
Click here to download the current Parish newsletter
For Mass Times
& other Liturgies
in the Parish,
click here


Eucharistic Adoration
New Adorers always welcome to sign up for an hour with the Lord.
If interested please contact
Nora Hogan on
025 24149 or
Catherine Hanley on 087 7727496.
Corpus Christi Procession 2018:
The Feast of Corpus Christi is on Sunday, June 3rd. The Procession will take place after 11.30am Mass on that Sunday. The Feast of Corpus Christi celebrates, with the greatest honour, the gift of the Real Presence of Christ in the Holy Eucharist. As Catholics we believe that the Act of Consecration in every Mass the bread and wine are changed into the Body, Blood, Soul and Divinity of Jesus Christ.
The Corpus Christi Procession reaffirms that Catholic Faith in a very public way. This is why it is so important to take part in the Procession. In a very public way and faith filled way we ask the Lord Jesus to bless our Community and our Town. We ask Him to deliver our Town from evil and to protect us all. We also, in a very public way, thank the Lord, for being with us and for all His blessings. Each year, we close a section of the Town for the procession. This year we have chosen the following route: The Blessed Eucharist will be carried down Chapel Hill, turn right onto Main Street, down Lower Cork Street to the Traffic Lights, left onto Baldwin Street, left onto Thomas Street and finishing at the Town Hall grounds with Benediction of the Blessed Sacrament.
As you know the Town Hall was once the Parish Church of St. Fanahan. We will conclude the Procession this year in the grounds of the Town Hall, remembering all the great people gone before us. The Carmelite Lourdes Group will take charge of the Canopy and Guard of Honour, but we invite volunteers to carry the Canopy at various intervals. Names of those who would like this honour, to be given in the Parish Office.
The Procession includes the whole Parish of Mitchelstown, Killacluig & Ballygiblin. We invite all the First Holy Communion children from the Parish to make a special effort to participate and all our Servers. We invite various groups in the Parish to also show their respect to Christ. We also invite and encourage the homes and businesses along the route to be suitably decorated to honour the Presence of the Lord. The next preparatory meeting will be held in the Parish Church Sacristy on Tuesday, May 29th at 7.30pm. Volunteers needed for stewarding.
Mass for Exam Students:
You are all invited to a Special Mass, both, parishioners and students, their families and friends, for all our exam students on Monday evening, June 4th at 7.30pm in the Parish Church. The Mass is being organised by the Parish Pastoral Council, in order to pray and support all exam students in our locality. Before the Mass students will have an opportunity to write their first name on a piece of paper, which will be placed on the Altar during Mass. Parishioners, will be invited to take a name and pray for the student throughout the exam period. We pray for all our young people involved in exams this year, including third level students, who have completed their exams. Our young people are very important to us and we want them to know that we understand the strains and challenges that face them. While we ask the Holy Spirit to guide them to success in their exams, we also pray for their happiness and protection in all their decisions and undertakings. So, you are all invited to come along to the Mass and to actively support and pray for God's Blessing on our young people at this important time in their lives.
Holy Hour For the Protection of Human Life from Conception to Natural Death:
Legion of Mary Holy Hour in Parish Church, every Monday for 4 weeks, beginning on next Monday, 30th April to Monday, 21st May. Please join us from 7 – 8pm. All are welcome.
Rosary at the Grotto:
May – The Month dedicated to Mary, the Holy Mother of Jesus: We invite you and the members of your family, to come together, to ask the help and intercession of Our Lady, the protection of all life from Conception to Natural death. Let us all renew our love for Our Lady during the month of May and pray especially to her. We encourage all families and schools to make a special Altar to Our Lady, during the month of May. Throughout the month, the Rosary will also be recited at the Grotto on Cahir Hill each evening at 8.00pm (except on Thursdays, due to the Holy Hour, it will be on at 7.30pm).
Powerful Catholic Bible Study and Healing:
Johnson Sequeira, a Catholic Lay Preacher will lead a day of Bible meditation, prayer and healing through scripture in Mitchelstown Town Hall on Saturday, 5th May from 11.00am to 6.00pm. He will share his profound insights into the Bible, unveiling the power of the word of God. Experience the healing and freeing power of the Lord's word in your life. Please bring a Bible and notebook for taking notes. All are welcome. Contact: Catherine 087-7727496
Mitchelstown Parish Summer Faith Camp:
will take place from Monday 23rd July to Thursday, 26th July 2018. For Boys & Girls aged 6-12 years. For more details contact Catherine Hanley 087-7727496. Click here for more info
NEW CATHOLIC TALK-RADIO STATION FOR IRELAND!!
RADIO MARIA IRELAND is an Irish-run Catholic Talk-Radio Station. Established since May 2015 with the aid of the World Family of Radio Maria, our modern studio is situated at the Red Cow Roundabout, Dublin. We have already surpassed 6,000 monthly listeners in Ireland and around the world. Our mission is to help spread the Gospel message of Joy, Hope and Charity with a mixture of Prayer, Catechesis, Uplifting music, Talks, Interviews and Testimonies – all commercial free.
We broadcast 24/7. You might particularly like to join us for live Morning Prayer at 9.15am followed by daily 10am Holy Mass. 11am Catechesis - with Fr. Eamonn McCarthy our full-time Priest Director - Angelus and Midday Prayer. Live Evening Prayer at 5pm is followed by News and the Rosary prayed from the studio at 5.30pm. We are part of a World Family of almost 80 such Catholic radio stations working to help communicate the Good News of Jesus Christ and His Church.
RADIO MARIA IRELAND is available to download FREE by App "RADIO MARIA WORLD FAMILY" on mobile devices, FREE streaming on www.radiomaria.ie by clicking "LISTEN LIVE" .
St. Joseph's Church, Killacluig - Choir Notice:
New members always welcome. To join, just meet us after 10.30am Mass on Sundays or contact Caitríona on 086-3760487. You do not have to come every Sunday to choir, just whenever it suits you and you don't have to know all the hymns as we will arrange practices.
The Parish and Community Newsletter is available at weekend Masses in the Parish.
The newsletter is printed in the Parish Office, Parochial House, Convent Hill, Mitchelstown.
E-mail: mitchelstownparishofficechurch@eircom.net Phone or Fax: 025 / 84062
Deadline is 12 noon Wednesday
Parish office is open: 9 a.m. to 12 noon – Monday to Friday
Pilgrimage News:
Cloyne Diocesan Pilgrimage to Lourdes
Friday June 1st 2018 - Wednesday June 6th 2018. Bookings available from Joe Walsh Tours, 117 Patrick St, Cork. 021 4277959.Details of the Special Sick/Assisted Section available from: TheParish Secretary, 27/28 Bank Place, Mallow (022 20276).
Diocesan Pilgrimage to Knock is on Sunday, 13th May. Parishes to make their own travel arrangements.
Diocesan Pilgrimage to Fatima 11th to 18th September 2018. Contact Pilgrimages Abroad Lauri Duffy Travel, Dublin 01-6359300.
Inspirational CDs from Lighthouse Catholic Media:
We have an exciting new program starting here in our Parish with Lighthouse Catholic Media. Inspirational CDs are available with stories of conversion and teaching regarding the Catholic Faith. These CDs are practical and effective in helping Catholics know their Faith, keep their Faith and share Faith!. All of the recordings are by people who are genuinely excited about their Catholic Faith and their energy is wholly contagious. We would encourage everyone to take time and listen to some of these CD's. After listening you will feel a deep appreciation for the gift of our Catholic Faith. Many people are concerned today about family members who have fallen away from the Church and wonder if there is anything they can do about it. The answer is 'Yes'! Just hand them a CD and ask them if they would like to listen to it. A suggested donation of €2.00 per CD covers the basic costs. The CD's are available in the Porch at the back of the Parish Church. More info at www.lighthousecatholicmedia.co.uk
The Messenger Magazine: This is a monthly magazine produced by the Jesuit order. It costs €1.35. It is available in the Parish Church each month. It has a lot of beautiful stories and great reflections. We encourage you to bring this magazine and the weekly Irish Catholic Newspaper into your home. Local promoter is; ANNA MARIA RUSSELL, (025) 84151. Copies are on sale in the Porch of the Parish Church, or from Anna Maria Russell or direct from Messenger Publications, 37 Lower Leeson Street, Dublin 2. Phone (01) 6767491
Cenacolo Meeting: Every Two Weeks
Cenacolo is a community of young people founded by an Italian nun, Sr. Elvira, in 1983. She began this community in Italy to help young boys and girls, who found themselves in serious difficulty with personal issues and with issues of addiction. There are now over sixty houses throughout the world, with one house outside Knock, here in Ireland. Parents can often find themselves alone and frustrated in trying to help and support their children, when they find themselves in serious difficulties. This need not be so. This meeting will be held every two weeks in the Marian Hall at 8.00pm. The Cenacolo meeting for parents and families affected by alcohol and drug abuse will take place in the Marian Hall (near Supervalu Car park) at 8.00pm every two weeks. All are welcome. Contact Margaret 085 – 120 0002.
Mitchelstown Town Hall :
A new Booking System in place for all space at Town Hall.
Parish Radios
The Parish Office has now got a new supply of Parish Radios for sale at €40 each.
ANCESTOR RESEARCH is no longer being carried out in the Parish office. The records for Mitchelstown Parish came be accessed through Mallow Heritage Centre, 27/28 Bank Place, Mallow, Co. Cork.
Tel: (022) 50302
Website: www.rootsireland.ie
or
E-mail: mallowhc@eircom.net
The Pilgrim Statue
of Our Lady
As Catholics, images and statues are reminders to us of God's presence and love. We don't worship statues, but we hold them and place them in our homes and in other buildings, to remind us that the living God is with us. The Pilgrim Statue of Our Lady is available for visitation to the homes of the parish. If you would like to have the statue for a week, contact the Parish Office, the Sacristy or a Legion of Mary Member.
2018
First Holy Communion
Glenahulla NS: Sun 29th April 2018 @ 10.30a.m.
Ballygiblin NS: Sun 13th May 2018 @ 10.30a.m.
Bunscoil na Toirbhirte: Sun, 20th May 2018 @ 11.30a.m.
C.B.S. Primary: Sun 27th May 2018 @ 11.30a.m.
Confirmation
Glenahulla, Bunscoil na Toirbhirte & C.B.S. Primary: Wednesday, 11th April 2018 @ 11.00a.m.
The Parish Office will be closed for the Christmas Holidays from Friday, 22nd December to Monday, 8th January 2018. Anyone wishing to advertise in the Parish Newsletter for weeks – 31st December&7th January, please have your articles into the Parish Office no later than 10am Monday, 18th December. We would like to thank everyone for supporting our Newsletter during 2017 and look forward to dealing with you in 2018.